The volunteer home access section of HelpCounter is where individual volunteers can check their hours, sign up for activities, and update their information
Setting up a new user name involves three quick steps.
Step 1 - Create your username
Your username and password can be anything you like. Enter your current email address even if you think the school may have an old one. You can change that one later.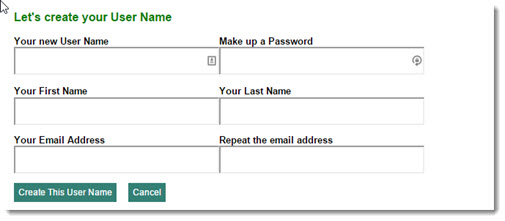 Step 2 - Select your school
Type in just part of the name of your school and then click on Find School and a list of matching schools will show below the box. For this search, less of the name is better. For example, if the name is South Technical High School Academy, try just 'south tech' or even just 'tech' or 'south'. This will bring up all schools with the search words in their name and you can select from that list. The same with all the school with St. or Saint in the name. Leave the St. or Saint out and just search for 'mary', etc.

Step 3 - Confirm your email address at that school.
This form will automatically show your email address. It's important to click on "Search for this address". If we find your address at that school, we'll send you an email so that you can confirm it really is you and the address is correct.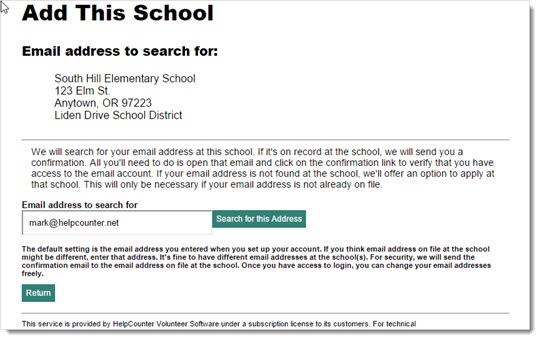 If it finds the email address at the school, it will send a confirmation email and should tell definitely that it found the address and and that the school was added. If it can't the address, perhaps it's because you have an older address on file at the school. You could try searching for that address. If it

Tip: Once you've set up your first school, you can add additional schools when you log into your account.


---
Having Trouble?
User name already taken?
Did you already set up the user name? Try just logging in w/o creating a new user name. If you're not sure of the password, click on Forgot User ID or Password. You can enter the user name and it will send the user name and password that was originally set. You should be able to log in with that information. And there's always the chance some one else has actually already used it.
Can't log in?
Make sure you are using the correct user name and password that was entered during set up. Click on Forgot User ID or Password. You can enter the user name and it will send the user name and password that was originally set. Make sure you are using caps and lower case correctly, sometimes that is hard to tell with mobile devices - especially iphones. All mobile devices seem to automatically capitalize the first letter, even when you don't want to. Sometimes browsers send old data from memory. Refreshing the window, reloading the browser, or even trying a different browser might work.
Can't find your school?
Try entering less of the name. Take it down to something really basic, like 'south', 'mary', 'city', etc. This may make the list of schools it finds longer, but your school should be in that list.
Can't find your email address at the school?
Be sure it's entered as it would have been originally, with dots in the right place, etc. Did you have an older one at the school? Try that one. Sometimes they just entered incorrectly at the school in the first place. If you are sure it's on file, you can call us (971.338.9550) and we'll check it out for you.